Vitamins – Minerals – Herbs – CBD – Holistic Care
~ WHAT BEEHIVE HEALTH FOOD HAS TO OFFER ~
Magnesium is a mineral which serves good purpose in our body along with other important minerals present in our body such as phosphorus, sodium, calcium, potassium, chloride, etc. The lack of magnesium can lead to various health conditions like diabetes, sleep disorders, hypertension and cardiovascular disease. Also, magnesium aids in the proper absorption of calcium in our body, particularly in our bones.
So what will happen if calcium is not absorbed by the body properly? In cases that calcium deficiency occurs, certain health problems might arise such as gall stones, kidney stones, plaque in the heart and in the brain, osteoporosis, and a lot more. There are certain conditions why calcium is not absorbed properly by the body, such as stress, corticosteroid therapy (usually taken by people with asthma), caffeine, smoking, too much protein intake, lack of exercise, etc. Nonetheless, aside from working on these areas, calcium supplements will work best if taken with magnesium supplements. Other minerals that will help in calcium absorption are vitamins C, D, E, K and boron.
There are a lot more benefits that the body can get from magnesium and that the lack of magnesium can cause serious health problems. But sufficient amount of magnesium in the body yields a lot of health benefits such as normal blood pressure, restful sleep, ease in spasms and muscle cramps, prevents constipation, prevents osteoporosis as it improves flexibility and rigidity of bones (yes, aside from calcium, magnesium is an important factor too for healthy and strong bones!), aids in weight loss, and even cures ADD or …
Beehive Natural Foods has earned the trust of its customers since it was founded 40 years ago in Miami Florida. Our customer base has grown beyond Miami to nationwide through word of mouth by our satisfied customers. 
~ OUR CUSTOMERS TESTIMONIALS ~
"I've been eating at the juice bar and buying goods from Bob for over 20 years."
— Jose, a local artist from Miami
"It's a great place to be. Great people. I recommend it to everyone."
— Gus, a loyal customer from Hialeah, Florida
"It's one of the only places I've been able to find some alternative, natural remedies for my children."
— Jessica, a mom and a loyalist of Beehive from Coral Gables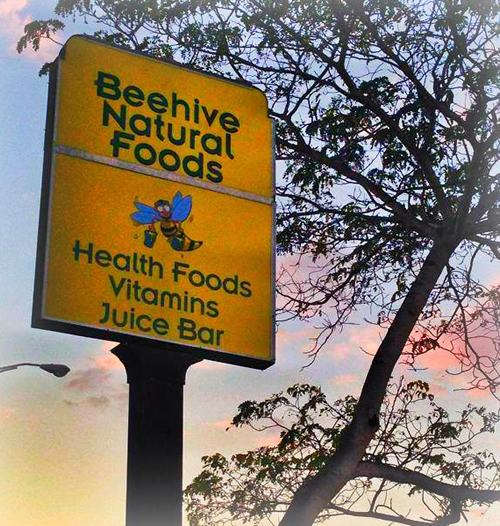 The Beehive Natural Food Store is consisting of two main sections; the (1) vegan/vegetarian restaurant and the (2) walk-in food store.
The restaurant, headed by Chef Carlos, serves the most delicious yet the healthiest meals, snacks, shakes, desserts, and smoothies you'll ever taste and experience. The foods served at the Beehive juice bar are so good and yummy you'll never realize it's a vegan/vegetarian meal.
And then, right next to the resto is the walk-in store where you'll find lots of stuff – all healthy and organic! The front shelves are full of organic cosmetics for both men and women – shampoos, conditioners, soaps, etc. There is also a handful of essential oils available which are used specifically for aromatherapy; as well as several kinds of pain relievers, all natural and organically produced.